Pay it Forward Thrift Store

Business Hours
Tuesday thru Friday – 10:00am-5:00pm
Saturdays – 10:00am-6:00pm
518.943.9205, extension 133
Clothing
Jewelry & Accessories
You May Be Surprised By What You'll Find…
Pay it Forward Community Thrift Store provides shoppers with quality goods at affordable prices. All proceeds benefit the programs of Community Action. The store provides opportunity for volunteerism among seniors, students and others, as well as serves as a job training site for those in our work readiness program.
When you come into our store, you'll be WOW'd by the quality, volume and variety of our clothes and accessories. Plus, don't forget that each day we add items on our racks with other items added throughout the week. Our assortment caters to all members of your household – men, women and children. We offer a variety of merchandise in addition to clothing, including jewelry, handbags and accessories, furniture, lamps, house wares and collectibles.
We do not accept electronics, appliances, books, movies, cds, etc.
---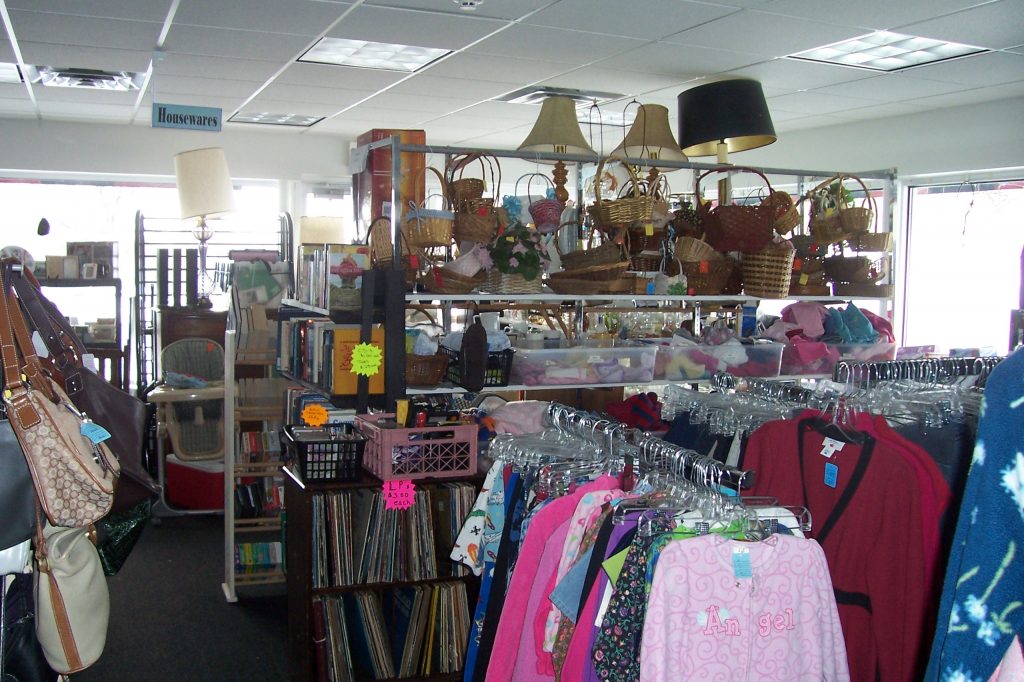 You never know who you'll bump into at our Pay it Forward Community Thrift Store. Our customers are as diverse and fascinating as our merchandise. Here's a sampling of some of our customers and the reasons why they shop with us:
Bargain shoppers who LOVE stretching their dollars.

BUY, BUY, BUY

and you can at our low prices!
People who want BRAND NAMES for MUCH LESS.
Moms and Dads wanting stylish clothes for their kids without breaking the bank (children outgrow clothes so fast and lots of our clothes look like they've never been worn!).
College students & young families looking to set up new homes/apartments with bedding, furniture, pots & pans, and much, much more.
Fashionistas looking for that unique one-of-a-kind outfit or accessory.
Retro and vintage clothing aficionados & antique hunters.
Costume designers for play and theater productions.
---
To all our current customers, we would like to say "THANK-YOU" for shopping at Pay it Foward Community Thrift Store. To all our future customers, we look forward to servicing you!!!
Store Policy: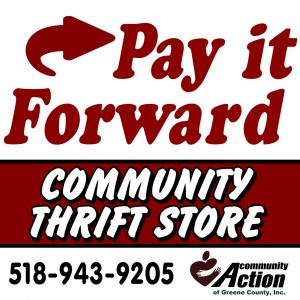 We accept cash, Visa, Mastercard and local checks only.
We accept returns with tags or receipt, for in-store credit only.
Sorry there are No Holds, No Layaway.

DONATIONS ACCEPTED BY APPOINTMENT ONLY.

Donations accepted by appointment Tuesday and Saturday between 10:30am-4:00pm only.

Donation slips for tax purposes available.

Free furniture pick-up available; please call to check availability.

We reserve the right to refuse any item.
Donations are accepted the following days only by appointment:
Tuesday and Saturday 10:30am-4:00pm
We reserve the right to refuse any item.
$$ We accept the following forms of payment – Cash, Mastercard, Visa, Checks with driver license #
Disclaimer:
Given the volume of merchandise we receive, we are not always able to evaluate the safety and recall issues relating to each piece of merchandise. All items are sold as is. We encourage our customers to carefully check each item at the store before purchase and check the following product safety sites before using any merchandise purchased from our stores, especially children's items: US Consumer Product Safety Commission Website, Government Recalls Website.